News center
Contact us
Add: Jiangsu province Wuxi City New WU District
Tel: 0510-81819749
Fax: 0510-84601391
Email: gc1718@163.com
Product show
Digital measuring projector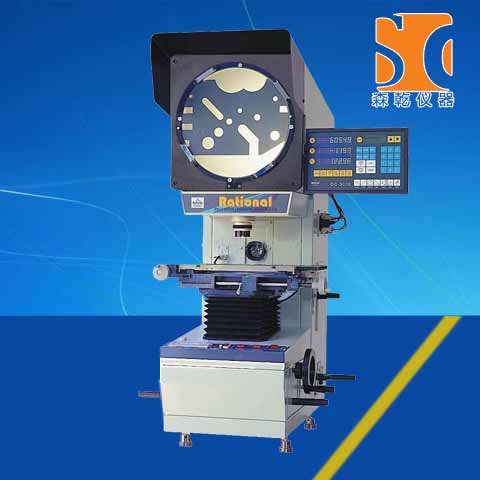 Product Numbers:201551503110
Price:
Product introduction:Digital measuring projector
Digital measuring projector
Usage
CPJ-3000(Z) series of profile projectors are photoelectric measuring system of high precision and efficiency. The image on the screen is in the same direction with the work pieces. This series profile projector is widely used in the trade of mechanism, meter, electricity, light industry, college, research institute and measurement –inspecting department. This instrument can inspect all kinds of surface and outline of complicated work-pieces such as template, pressing work-pieces, cam, thread, gear, milling cutter and so on.
Specialities
CPJ-3000Z series Profile projector is famous for its excellent quality of optical system. This series profile projector is processed of clear of clear image and accurate magnification. The error of contour measuring is under 0.08% under the illumination. The indication error of the coordinate is under (3+l/75) μm, (L is the length of the work pieced to be measured, unit: mm).This instrument provides the DC-3000 data processing system and foot-switch, which are convenient to output and gather the data.
Specification
Reverse image

CPJ-3007

CPJ-3010

CPJ-3015

Erect image

CPJ-3007Z

CPJ-3010Z

CPJ-3015Z

Working table

The metal table's size(mm)

260*152

306*152

340*152

The glass table's(mm)

125*100

175*100

196*96

X-axis,travel(mm)

75

100

150

Y-axis travel(mm)

50

50

50

Z-axis travel(mm)

90(for focus)

90(for focus)

90(for focus)

Weigh

(kg)

120

125

130

Dimension(L*W*H)

(mm)

770*550*1100

770*550*1100

770*550*1100

Measruing accuracy

(μm)

(3+L/75)

(4+l/50)

(4+/25)

Resolution(X-axis,Y-axis)

0.5μm

Projector screen

Screen size(mm)

Ф312 used range>Ф300(with the metter line)

Screen rotary range

0°~360°

Rtary angle resolution

1‵ or 0.01°

Lens

Magnification

10X(option)

20X(option)

50X(option)

100X(option)

Object view(mm)

Ф30

Ф15

Ф6

Ф3

Working distance(mm)

77.7

44.3

38.4

25.4

Max.Workpiece hegiht

80mm

80mm

80mm

80mm

Data processing system

DC-3000 multi-function data processing system appearing in English,can be used to gather the data and measure the point,line,circle,angle and distance.

lllumination

The illuniation of transmission and reflection:24V/150w-halogen lamp.

Power

110V/220V(AC) 50/60Hz total power=400W

Cooling

By the fans

Accessories

Min-printer(option),Edge detcetor(option),M2D software(option) and so on,please refer to accessories for Profile Projector for more details

Ideal table

Loading weight>250kg

Dimension:800(L)*550(H)*650(W)mm